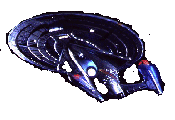 Vallero, Daniel

Family & Personal History
Father: Jack Vallero
Mother: Sai Vallero
Brother: Casey Vallero
Raised in Idaho, Daniel spent his free time hiking in the mountains with his father and brother. He showed interest in wilderness survival training, and his father was supportive and put him through classes.
Educational History
Starfleet Years of Service: 19
Recent Assignment: USS Osprey (Akira Class) – Operations (3 years), Executive Officer (5 years)
Last Assignment: USS Atlantis (Sovereign Class) – Executive Officer
Daniel Vallero's loyal service as officer of Operations led him to eventually being promoted to the USS Osprey's first officer. He attributes his success to his no-nonsense, common sense attitude in achieving tasks and running day to day operations aboard a starship.
Medical History
Blood Type: B+
No medical conditions on file.

Strange Bedfellows
Posted on June 21st, 2017 by
Daniel Vallero and Alexis Wright
Posted in Logs 1 Comment
Log of the Month Award
Daniel's Confession
Posted on October 18th, 2016 by
Kathryn Harper and Daniel Vallero
Posted in Logs No Comments
Log of the Month Award
Daniel's Doubts
Posted on September 6th, 2016 by
Daniel Vallero
Posted in Logs 1 Comment