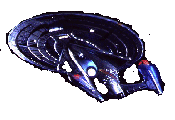 Acacia, Emilaina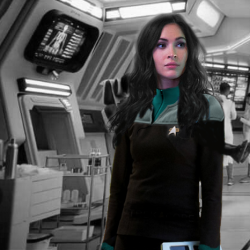 Name:
Acacia, Emilaina
Rank:
Lt. Commander
Service Number:
878-1045E
Date of Birth:
2 May 2370
Species:
Human/Betazoid
Gender:
Female
Place of Origin:
Earth
Height:
176cm
Weight:
59kg
Build:
Average
Hair:
Black
Eyes:
Black
Marital Status:
Single
Current Assignment:
Chief Medical Officer,
USS Atlantis
, NCC-1021-D
Service Record
11807.25: Promoted to Ensign for Graduating Starfleet Academy
11807.25: Assigned to the USS Atlantis as Assistant Medical Officer
11901.16: Promoted to Lieutenant JG
11910.02: Promoted to Lieutenant
12105.19: Promoted to Lt. Commander
12111.10: Awarded Presidential Unit Citation, USS Atlantis, for Extraordinary Heroism and Exemplary Service, Xovul Conflict
Physical Description
Emilaina is a half-Betazoid, half-Human woman with sharp, observant eyes. Her long black hair is usually up in interesting braids when she's on duty, and she can often be found lost in thought.
Family and Personal History
Relations:
Father: Doctor Darokkatan Acacia, Commander aboard the I.S.S. Albatross
Mother: Janessa Acacia, Freelance Botanist
Sister: Averianna Acacia, Lieutenant Commander aboard the U.S.S. Ambition
Sister: Torinessa Acacia, Practicing Psychologist, Earth
History:
Doctorate of Medical Research from Starfleet Academy
Preempting Mutation to Prevent Inter-species Infection with Engineered Immunity, Doctoral Thesis
Case Study: Xenwaeli Torbaggesh, Consulting Exoimmunologist

Older