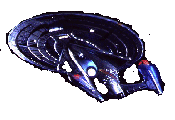 Atlantis History

A Letter From the Commanding Officer
Welcome to the USS Atlantis, a Star Trek simulation with a fine history of success and quality. For over twenty years, the Atlantis has sailed the boundless sea of the imagination, creating her own adventure in a universe teeming with possibility. The vision of Star Trek is all about the potential of an exciting future: warp drive, replicators, incredible medical technology, and a Federation composed of diverse races, cooperating to make things better for all involved. This vision does not always remain perfect, as is the nature of sentient life, and the Atlantis reflects that duality with her continually twisting storylines. As the sim's creator, I am certainly pleased to keep these traditions alive and well, and with a crew as fine as the one aboard Atlantis, that job is not a difficult one. If you want more information about the Atlantis, apply to join the crew and I will be glad to chat with you. Until then, enjoy the website!
Commodore Kathryn Harper
CO, C3F, USS Atlantis, NCC-1021-D
"Come let us sail the boundless sea..."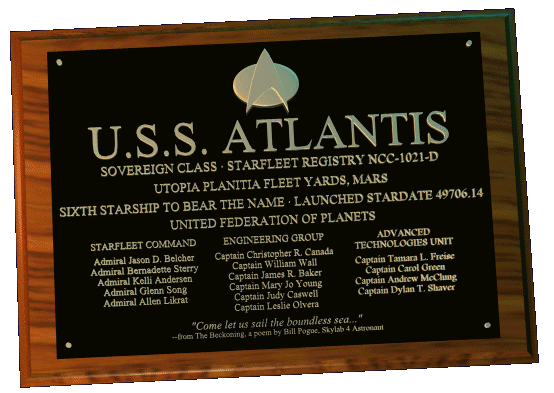 Starships Bearing the Name Atlantis

Space Shuttle Atlantis OV-104
United States Space Shuttle
Entered Service October 3, 1985
Retired from Service July 21, 2011

U.S.S. Atlantis NCC-1021-A
Excelsior Class Starship
Commissioned November 24, 2291
Refit Completed April 12, 2316
Decommissioned June 6, 2342

U.S.S. Atlantis NCC-1021-C
Galaxy Class Starship
Commissioned May 21, 2362
Destroyed at Wolf 359, Borg Conflict


U.S.S. Atlantis NCC-1021
Constitution Class Starship
Commissioned October 21, 2240
Refit Completed September 17, 2271
Decommissioned July 6, 2291

U.S.S. Atlantis NCC-1021-B
Ambassador Class Starship
Commissioned June 16, 2342
Decommissioned March 14, 2362

U.S.S. Atlantis NCC-1021-D
Sovereign Class Starship
Commissioned June 14, 2376
Refit Completed January 20, 2395

Command History
| | |
| --- | --- |
| June 14, 1997 – September 5, 1998: | Captain Seamus Blackthorne |
| September 12, 1998 – June 12, 1999: | Commander Earl Grey |
| June 12, 1999 – May 13, 2003: | Vice Admiral A.C. Zuriyev |
| May 13, 2003 – April 20, 2016: | Vice Admiral Ian Blackthorne |
| April 20, 2016 – December 28, 2016: | Captain Kathryn Harper |
| December 28, 2016 – June 14, 2017: | Admiral Ian Blackthorne |
| June 14, 2017 – Present: | Commodore Kathryn Harper |
Sim Group History
| | |
| --- | --- |
| June 14, 1997 – February 7, 1998: | Continuum Online |
| February 7, 1998 – August 31, 2005: | Celestial Prime Alliance |
| August 31, 2005 – July 30, 2014: | Independent |
| July 30, 2014 – July 23, 2020: | Star Trek Engage |
| July 23, 2020 – Present: | Independent |