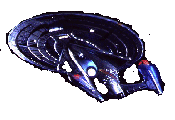 Tav, Jorvan

Family and Personal History
Jorvan was born to parents Kirsche and Jalie. An only child, he was brought up with the intention of joining with a symbiont. His parents began his childhood schooling two years early so that he could be initiated by the Trill Symbiosis Commission. A bright young student, Jorvan quickly excelled at the mental and physical challenges placed before him as part of the elimination trials.
In 2378, Jorvan was placed with field docent Bodar Syr. After this evaluation, Jorvan was cleared to be joined.
The Tav Symbiont is 147 earth years old, and was joined with four hosts before Jorvan: Doctor Prieth (Prieth Larsa 2226 – 2249, Prieth Tav 2249 – 2283); Teran (Teran Kiella 2259 – 2283, Teran Tav 2283 – 2332); Yziria (Yziria Inira 2313 -2332, Yziria Tav 2332 – 2337*); Baran (Baran Akyr 2320 – 2337, Baran Tav 2337 – 2377). Jorvan was joined with Tav Stardate 56734.9 (26 September 2377).
Jorvan Tav attended Starfleet Academy from 2382 – 2388, spending four years (2382 – 2385) working toward his Science and Biology, and 2385 -2388 at Starfleet Medical.
Out of the Academy, Jorvan's first assignment was as a science officer aboard the USS Crazy Horse (NCC-50446) where he served for one year before being transferred to USS Atlantis (NCC-1021-D). He spent a year aboard as a science officer, and during that time was promoted from Ensign to Lieutenant Junior Grade, and later to Lieutenant.
While serving as Chief Science Officer aboard Atlantis, the Chief Medical Officer stepped down, and Tav was asked to take the position. He reluctantly accepted, but has found this position to be much more rewarding than he had found working in Science.
* Most of Tav's hosts enjoyed a long relationship with the Symbiont; however three years after joining, Yziria was diagnosed with a disorder that would eventually destroy her brain. At that point she became a field docent to help select the next host for the Tav symbiont, before she gave up her life early to make sure the symbiont would not be harmed. Tav was removed from Yziria and she died nine hours later.
Educational History
Gara University, Trill
2377 – 2382
Major: Astrophysics, Warp Theory, Terraformation Science, Xenobiology, Biomolecular Physiology
Minor: Psychology, Stellar Physics, Botany
Honors: Magna Cum Laude
Starfleet Academy, Earth
2382 – 2388
Major: Science, Medicine*
Minor: Biology
Titles: Doctor of Medicine (M.D.); Doctor of Science (Sc.D)
Honors: Cum Laude
*Due to Tav's previous experience as a medical doctor (See: Dr. Prieth Tav), Jorvan Tav was able to test out of many of the prerequisite and basic sciences for his M.D.; however he completed all of years 3-4 clinical rotations, internships and electives.

Older