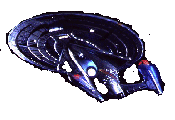 D'bryn, Zoë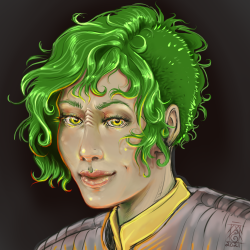 Name:
D'bryn Sauëdeyan 'Zoë'
Rank:
Lieutenant
Service Number:
898-1029A
Date of Birth:
11 January 2376
Species:
Human/Bajoran
Gender:
Female
Place of Origin:
Bajor
Height:
167cm
Weight:
56kg
Build:
Ectomorph
Hair:
Dyed Green
Eyes:
Hazel
Marital Status:
Single
Current Assignment:
Chief Engineer,  
USS Atlantis
, NCC-1021-D
Service Record
21 Aug 2394: Enrolled at Starfleet Academy
2 Nov 2396: Cadet field-assignment to engineering department on the USS Meridian-A
6 Jun 2398: Graduated Starfleet Academy, assigned again to engineering department of USS Meridian-A
12 Jan 2400: Transferred to the engineering department on the USS Atlantis
5 May 2400: Promoted to Lieutenant JG
10 Nov 2400: Awarded Presidential Unit Citation, USS Atlantis, for Extraordinary Heroism and Exemplary Service, Xovul Conflict
23 Mar 2401: Promoted to Lieutenant and Chief Engineer, USS Atlantis
Physical Description
Zoë hasn't seen her natural hair color since she was nine years old. Occasionally she will change it to a natural-looking color that is not her own, but most of the time she cycles through vibrant greens, blues, reds, pinks, etc. She keeps it relatively shortish.
She has a number of tattoos, none of which are visible while she's in uniform. If she rolled up her uniform sleeves, one would see full tattoo sleeves on both arms.
Family and Personal History
Zoë was born in 2376 to Amylla Isaev and D'bryn Abral, both veterans of the recently-ended Dominion War. They divorced within a year of Zoë's birth, and Amylla moved back to work on the Mars Orbital Station while Abral stayed to work on Deep Space 9.
Commuting between two space stations throughout her childhood meant that by the time she enrolled at Starfleet Academy at 15, Zoë had not spent more than an allotted year on land. During this time she developed a keen interest in engineering, starting out with small projects at home before eventually moving on to an unofficial apprenticeship with the engineer on the civilian cruiser Valiance: the ship she most commonly took between her parents' homes. When she was 12 she actually assisted with the repairs of an impulse malfunction on the Valiance, earning her an honorary position with its crew.
With so much moving around as a kid, Zoë was scarcely able to forge close or long-lasting friendships. As a natural introvert she is most often drawn to projects, hobbies, and entertainment that can be taken in solitude. She loves diving into the long history of music, film, literature, games, and theater.

Older